20TH FEBRUARY 2014
David Completes Successful Formula 4 test at Donington Park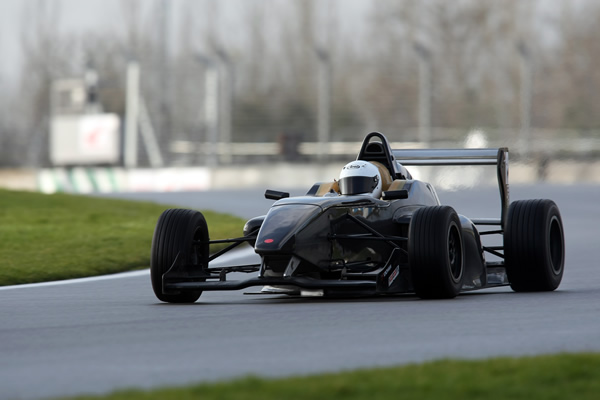 David enjoyed a very positive Formula 4 test with MGR Motorsport at Donington on Tuesday. David dipped into 67 second laps on the drying track and was comfortably the quickest F4 car on the track.
"It was a very enjoyable day," he commented. "The F4 car has more mechanical grip than the Formula Renault and seems to quite suit my driving style. It would be useful to test again at another track and make a decision for this year after that. The car ran faultlessly all day. Thanks to MGR for making it happen. "

10TH MAY 2013
Difficult Formula Ford Debut for David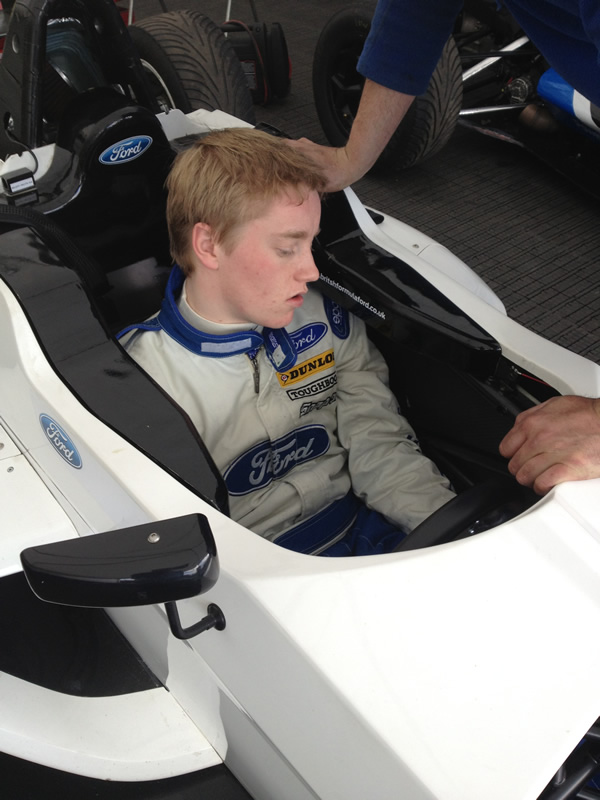 David's debut in Formula Ford at the Thruxton race circuit was hampered by electrical problems that meant he didn't get a clear run in any of the races. As a guest driver with Ford and Falcon Motorsport, David was sure he would be competitive at the ultra-fast track as he explains, "I really enjoy Thruxton and we have been very quick there before. We were 3rd fastest in qualifying after 2 laps but the car cut out and we dropped down the order as the track dried. The boys at Falcon worked very hard to try and sort the problem but we didn't really have time to get it totally cured."
"I hope I can get another chance to race the Ford. It is quick and great fun to drive and I am sure, with a bit of testing, we can be at the front. Many thanks to Ford and Falcon Motorsport for helping make it happen."

12TH NOVEMBER 2012
David retained for Strathclyde's Elite Athlete Programme
For the 2012/2013 academic year, David will continue on the University of Strathclyde's elite athlete programme alongside Team GB Olympian Robbie Renwick.
David, in his second year of studying Finance and Marketing, will receive a sports bursary and support from the Elite Athletes department.
Speaking about the award, David said "I am delighted to continue to be a part of the University's Elite Athlete programme. The University have been extremely supportive of my racing and have helped me to manage both my motor sport and university commitments.
"I also receive a sports bursary that is kindly donated by the University's alumni that I use for to pay for my race preparation sessions at iZone Driver performance at Silverstone. I hope to reward them with motor sport success in the future."

9TH OCTOBER 2012
David fights back at Silverstone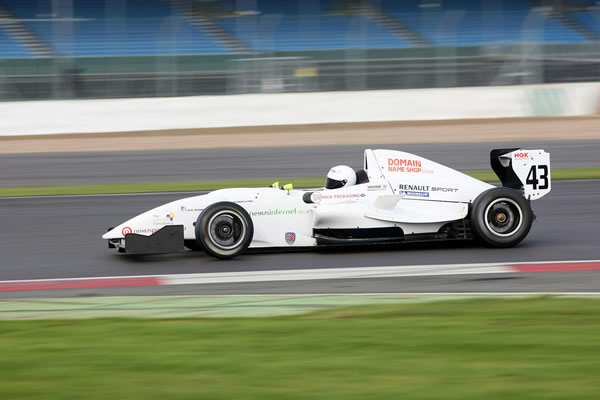 David Wagner fought back from a disappointing qualifying and a crash in Race 1, to finish in a credible fifth position from an eleventh place start in the final race of the 2012 Formula Renault BARC Championship.
After setting the fastest time in the official practice session at Silverstone, David headed into the weekend feeling quietly confident. However, the track conditions changed significantly for qualifying, resulting in David and his MGR teammates struggling for pace. This left David lining up in twelfth and eleventh position for the two races. After a good start in race 1, David was hit from behind on the run to Copse, the first corner, and was speared into the circuit wall, ending his race prematurely and causing damage to the car. His mechanics worked late into the night to rebuild the car and he rewarded them with a fine drive from eleventh to fifth.
"This has been a challenging weekend for everyone in the team. After setting the fastest time in Friday practice, I was sure we were going to be fighting for pole position. The set up on the car hadn't changed, but as soon as qualifying started, everyone in the team suffered with understeer. That left me starting in twelfth and eleventh position for the races. I made a good start but on the run to Copse, I was hit from behind and into the wall. It was really disappointing as not finishing the race meant that I lost third position in the championship," explained David.
The Carrick Packaging backed racer continued, "For race 2 we worked late into the evening on Saturday to solve the understeer problem. I made another good start and at the end of the first lap, I was up to eighth position. Everyone in front was battling, and I managed to pick off a few cars to get up to fifth. I tried my best to get fourth but the Silverstone National Circuit has relatively short straights which makes it difficult to get a good slipstream and overtake on. I am pleased that we solved the understeer issue that allowed me to be back at the front."
MGR Motorsports Driver Coach, Dean Smith said, "This weekend has been difficult. The track changed a lot between Friday and Saturday and our drivers struggled with the balance of the car. However, after a difficult qualifying and race on Saturday, David worked with his engineers to find a solution to the problem. In race 2, equipped with a competitive car, he put in a mature drive to fifth place."
MGR Motorsports Team Principal, Mark Godwin said, "This year David has gone from being a Formula Renault BARC front runner to a race winner. He puts a lot of effort into his racing and his results this year have shown this. He has had some bad luck that resulted in him losing ground in the championship but he has taken a victory, three other podiums and two poles. This is a great base to work on for next year."
David reflected, "Finishing fourth this year out of thirty-seven drivers is a good result. I have learned a lot this year about car dynamics and race preparation and this will stand me in good stead over the coming years. I would like to thank MGR for all their hard work this year and for giving me a car capable of winning. I am also grateful for the continued support from Carrick Packaging, Nexus Internet, Nexus Packaging, Domain Name Shop and the University of Strathclyde. It was great to have so many of them at Silverstone supporting me."

25TH SEPTEMBER 2012
David Nominated for McLaren Autosport Award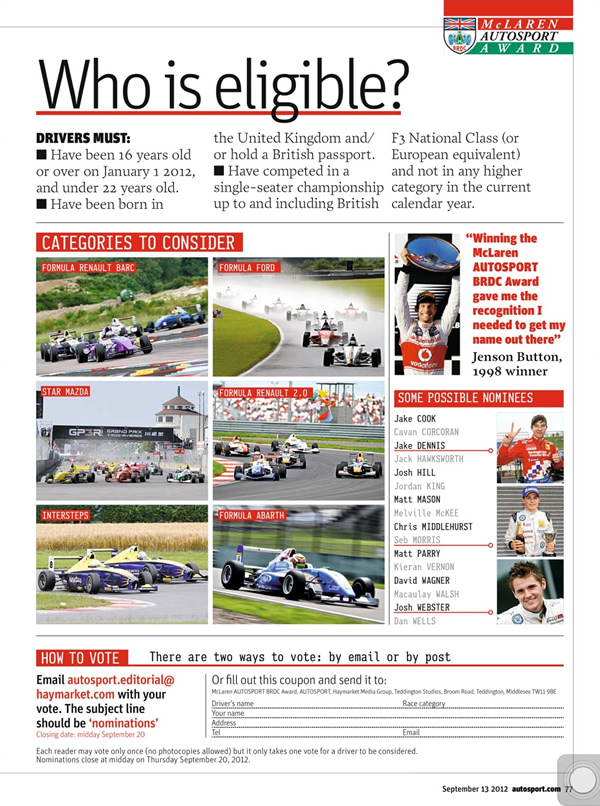 David has been nominated as a possible finalist for this year's McLaren Autosport Award.
The winner receives a McLaren F1 test and £100,000 towards their racing budget.
Many thanks to those who voted for him.

25TH SEPTEMBER 2012
Silverstone Race Live on ITV4
David's Formula Renault race at Silverstone on Sunday 7th October will be shown live on ITV4 at approximately 3.00pm. Event coverage starts around 11.00am and features races with Touring Cars, Porsche Carreras, Renault Clios and Ginettas.
Races can also be viewed on-line at: http://www.itv.com/btcc/live/

20TH AUGUST 2012
David Wins at Donington Park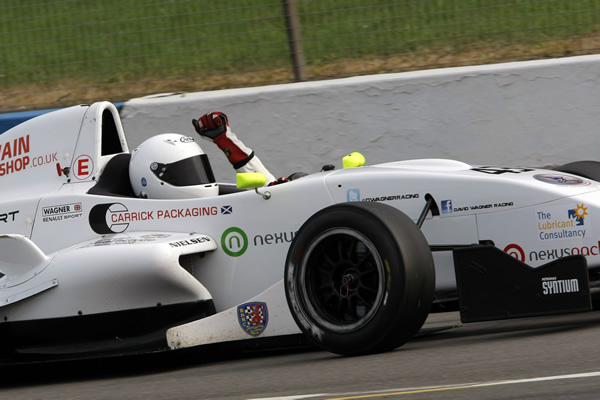 David took a dominant, lights to flag victory in race three of the Protyre Formula Renault BARC Championship at Donington Park on Sunday.
He also finished as the top qualifier by securing third, second and pole for races one, two and three respectively. In race one, a competitor ran into the back of David at the first corner, damaging the rear of the car which resulted in him finishing in a disappointing seventh. He fought back to take second place in race two before powering to a superb victory in race three.
"I am delighted to have taken my first win of the year, especially as Donington Park is one of my favourite circuits. There are some awesome corners here, like Old Hairpin, a 5th gear, 100mph, right hander, where the car is always on the limit. We had a strong pre-race test on Thursday and I was confident heading into the weekend that I had a car capable of winning. Qualifying was so close and in sessions one and two I was only 0.018s and 0.007s away from pole position, but in the third session I took pole by 0.168s which was the biggest margin of the weekend," explained David.
The University of Strathclyde Elite Athlete continued, "In race one, I got hit by another driver which put my rear wheels out of line. On round right hand corners, the car kept oversteering and it was so difficult to drive I that had to defend hard to finish in seventh."
"In race two I got a good start and held second at the first corner. Once everything settled down I tried to catch the leader and was able to close in on him slightly but I was struggling around Coppice with oversteer and he pulled out a lead that I could not close. I was looking at the corners on the track where he was stronger so that we could fine tune the set-up of the car and make it quicker for the next race.
"In the third race I made a great start and held the lead into the first corner. On the run out of Maclean's and into Coppice I had to defend quite hard but I held my position and managed to open a gap. After that I just focused on driving as smoothly as possible and made no mistakes. Every lap I checked my mirrors on the back straight to see if anyone was catching. I could see they were pushing hard but they were making mistakes as some laps they would close and on others they would fall away. Crossing the line to take the checkered flag was an amazing feeling. The car was great all weekend and I was able to push extremely hard so a big thank you to everyone at MGR Motorsport for giving me such a good car."
MGR Motorsports Team Principle, Mark Godwin said, "This year Formula Renault BARC is more competitive than ever with some extremely experienced and fast racing drivers. However, only four drivers have taken pole position and a win this year and for David to be one of them highlights his ability and potential. To be the top qualifier this weekend was superb and he could so easily have taken the three poles in one of the closest qualifying sessions that I have seen. Although he had car damage in race 1, David showed his strength of character to bounce back and take a second place and a win in the other two races. He works hard at his racing and it is clearly paying off. With two races left, I am sure he will finish the year very strongly."
David reflected, "I am so pleased to have won this weekend at Donington. Since Croft, I have found a set up that suits my driving style and that has been the difference in my results. When leading the race, I felt in complete control and I was confident that I could keep the gap and take the win. There are two rounds left in the Championship and I am now up to third. My aim now is to win the next two races at Silverstone and secure third in the championship. I am grateful for the continued support from Carrick Packaging, Nexus Internet, Nexus Packaging, Domain Name Shop and the University of Strathclyde."
The final two rounds of the championship take place at Silverstone Race Circuit on the 6th & 7th October as part of the British Touring Car Championship race weekend.

24TH JULY 2012
Superb Pole and Podium for David at Croft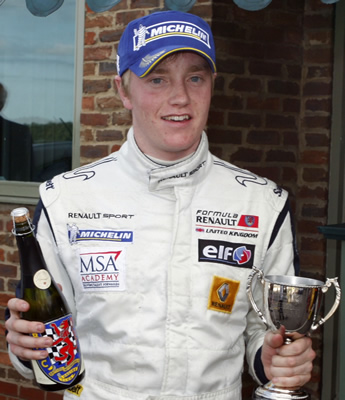 David took a superb pole position and a podium finish at the Protyre Formula Renault BARC Championship at Croft Race Circuit on Sunday.
The first qualifying session was interrupted by a number of crashes and red flags which resulted in a few of the front runners being unable to put in a competitive time and David could only line up in 14th for race 1 but the Scot bounced back strongly to go fastest in the second session and secure pole position for race 2.
The first race started well as he made an excellent getaway to climb from 14th to 11th on the first lap. From then on, he produced some fine overtakes to finish the race in sixth. In race 2, David lost out on the run down to the first corner and dropped to third. However, he kept the pressure on the two leaders and closed on them but could not quite find a way past.
"I am really pleased with the weekend. Croft is a circuit that I like as the camber is constantly changing through the corners, making it really tricky. The surface is also very abrasive so it is essential to conserve tyres throughout qualifying and the races. Although we didn't have a great first qualifying, I was delighted to take pole in the second session," explained David. "The Renault was set up really well and I was able to push extremely hard so a big thank you to everyone at MGR Motorsport for giving me such a good car."
The Winning Scotland Foundation ambassador continued, "In race 1, I knew that I had to get a good start and did exactly that and jumped from fourteenth to eleventh in the first lap. From then on I pushed really hard and made sure that I got a clean exit from the chicane to get tucked up behind the car in front along the straight towards Tower, a heavy braking right hand corner. At the last minute, I would dive out of their slip stream and overtake. I set about closing on fifth but he was a couple of seconds ahead and I could feel my tyres starting to go off, so I focused on conserving them for race 2."
"It was nice to be starting on pole for the second race with a clear view into turn 1. Unfortunately, the car started to creep forward and I had to dip the clutch a little just as the lights changed and I dropped to 3rd. I kept pushing and was beginning to catch the leaders when there was a bad crash and the safety car came out. After the restart, the three of us were really on the limit and when the leader ran wide I thought the win was still on but a few corners later I had a bit of a slide myself and had to settle for third. I was disappointed to let a race victory get away but it's good to be back on the podium."
MGR Motorsports driver coach, Kelvin Burt said, "David's performance this weekend has been great. His pole position lap was a measure of great accuracy and speed and we were delighted with that. Like his drive at Snetterton from the back of the grid to sixth, David again showed his excellent overtaking ability to climb from 14th to secure some valuable points at a track where it can be difficult to overtake. In the second race David pushed the top two all the way to the flag and a podium was well deserved after his hard work."
David reflected, "I believe that I am now back to where I deserve to be by taking a pole position and a podium. There are five rounds left in the championship and my aim is to be the highest point scorer from now to the end of the season. With continued hard work, I know that I will win a few races before the end of the year. I am grateful for the continued support from Carrick Packaging, Nexus Internet, Nexus Packaging, Domain Name Shop and the University of Strathclyde."
The next two rounds of the championship take place at Donington Park on the 15th & 16th August.